LiveTracts Banner Exchange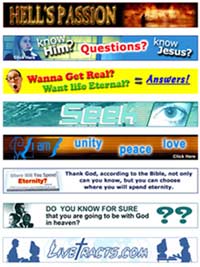 Below are the banners that are in the
LiveTracts Banner Exchange
. We place these in secular banner exchanges and fish for the unsaved online. Your are welcome to use any of the the banner for witnessing. You are also welcome to link to any of our witnessing pages. If you click on the banners it will take you to the witnessing page it is linked to. Each of the banners links to a page that has information on how one can come to know Jesus Christ as their Lord and Savior and PHPLive Internet Pastor, live chatroom or IM where they chat will someone live about coming to know Jesus Christ.
Click here
to see live chat link. If you would like to put the LiveTracts witnessing banners on your site just
click here
.
To see the Live Tracts Banner Exchange banners just click here.
You can also help us show these banner on secular sites, click here to see how. That way you can help take the Gospel to the world via the Internet!

Put the LiveTracts witnessing banners on your site.
Just copy and past the below html code in your website.















Send mail to webmaster@e-tacklebox.com with questions or comments about this web site.
© 1997 Ark Webs Ministries. All Rights reserved.
LiveTracts is a Ministry of Ark Webs
This web site provided for you in Jesus' name.